Drainosaur Water Removal System - WRS-5
•

Product Data Sheet (Performance & Dimensions)
•

Operation & Maintenence Manual (O & M)

FEATURES
Motor:
115 Volts, Electric Motor with 10 Foot Cord
APPLICATIONS

Features:
• Pre-assembled for easy installation
• Two tank size options available
• Multiple pump performance options
• Cylindrical polypropylene tank
• Easy to remove filter trap available
• UL / CSA listed
• IAPMO approved basins

Includes 5-gallon polypropylene tank. Tank lid has 1-1/2" FNPT (38.1mm) side intake port, 1-1/2" FNPT (38.1mm) top discharge port, and 2" FNPT (51mm) top vent port. Easy-to-remove filter trap. Also includes 1/2 HP automatic, 5-ASP submersible sump pump with 10" (3m) power cord and 3-prong grounded plug; and 1" (25.4mm) diameter pipe from pump to lid. Basin is IAPMO approved.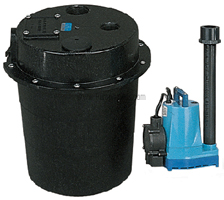 Available Drainosaur Water Removal System - WRS-5
Model #
Description
Price / ea.
ORDER
CAN SHIP