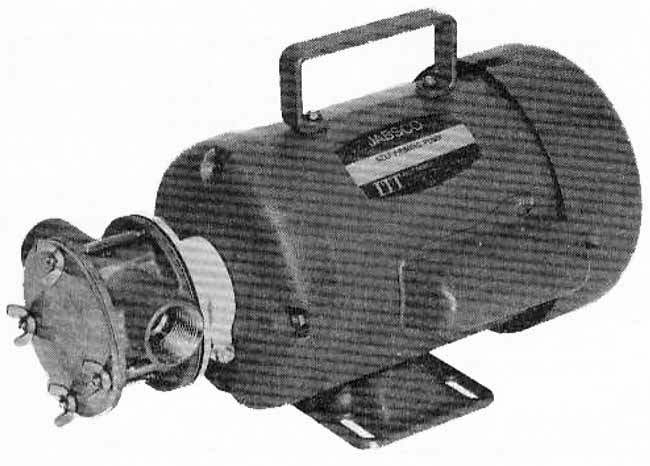 Jabsco # 12490-0001
Jabsco catalog # 12490-0001, Stainless Steel Flexible Impeller Pump and Motor unit. 316 Stainless Steel Construction, with a Neoprene Impeller and Lip Type Seal. Pump is Close Coupled to a 3/4 Horsepower, 1725 RPM, 115/230 Volts, Single, TEFC (Totally Enclosed Fan Cooled) Motor. Comes with a 6 foot Cord 3 Prong Grounded Plug. Ports are 1 Inch NPT Internal.
Product Information :
The Jabsco 12490-0001 is a 316 stainless steel Flexible Impeller pump with a Neoprene Impeller, Lip Type seal, 1 Inch NPT Internal Ports, coupled to a 3/4 Horsepower, 1725 RPM, 115/230 Volts, Single Phase, TEFC, 60 HZ Motor, with a 6 foot Cord and 3 Prong Grounded Plug. These pumps can be used where stainless steel, self-priming, 26 GPM (98.4 LPM) flow, debris-tolerance, and portable 115 Volt AC 60Hz operation is desired. These flexible impeller pumps are self-priming and pump instantly with dry suction, lifts up to 10 feet (3m) and up to 22 feet (6.7m) when wetted. Permits cleaner, safer installations. No foot valve required. Be sure suction lines are airtight or pump will not self-prime. The stainless steel bodies and stainless steel shafts are well suited for industrial and chemical applications. These pumps have replaceable cams and wearplates for extended product life, and they have one moving part a tough, long-lived, wear-resistant flexible impeller, lubricated by the liquid being pumped. No metal-to-metal pumping action no gears to jam, clog or become noisy. This unit depends on the liquid pumped for lubrication. Do not run this pump dry for more than 30 seconds as a lack of liquid will damage the impeller. The operating temperature limits of the pump depend on the impeller compound. The following range applies for Neoprene impellers : 45 degrees F to 180 degrees F (7 degrees C to 82 degrees C). A Neoprene impeller is good for water and general purpose pumping. The motor on this pump is 3/4 HP, 1725 RPM, 60 Hz, Single Phase, 115/230 Vac, TEFC, Continuous Duty, with Capacitor Start, with Thermal Overload Protection with Automatic Reset, Carrying Handle, and 6 foot Cord with 3 Prong Grounded Plug. For continuous operation, pressure should not exceed 20 PSI (1.4 kg/sq cm). Pump may be installed in any position. Rotation of motor determines the location of the pump intake. The motor is normally wired for clockwise rotation when looking at pump cover with inlet port on the right. A Jabsco Service Kit should be kept on hand to maintain all but the most badly worn pumps.
Features :
Pump Body:
316 Stainless Steel
Port Size:
Ports are 1 Inch NPT Internal
Motor Specs :
3/4 Horsepower, 1725 RPM RPM, 115/230 Volts, Single, TEFC (Totally Enclosed Fan Cooled).
Product Specs :
316 Stainless Steel pump head.
26 GPM output at 10 feet total head.
Self-Priming from 810 feet dry, from 1822 feet when wetted.
Continuous duty motor with thermal overload protection.
6 foot power cord with three prong plug.
Convenient carrying handle.
Servicing and clean out is a simple operation.
Pulsation Free Flow: Delivers a smooth even flow.
Non-Shear Action: Will handle delicate fluids.
Hard Solid Handling: Passes hard solids or abrasives with minimal wear, clogging or damage.