MD Series Model 3X-MDX
•

Product Data Sheet (Performance & Dimensions)
•

Operation & Maintenence Manual (O & M)

FEATURES
Motor:
115 Volts, Electric Motor with 6 Foot Cord
APPLICATIONS

Features:
• Specific Gravity - up to 1.1"
• Ambient Air Temperature - up to 77F (25C).
• Fluid Temperature – Up to 150F (66C).

Magnetically driven pump for mildly corrosive chemicals and solutions. The MD Series features leakproof, seal-less magnetic drives and are designed for in-line, non-submersed use. Cast magnet housing/base open fan-cooled motor with sleeve bearings. 6 ft. power cord and 3-prong plug.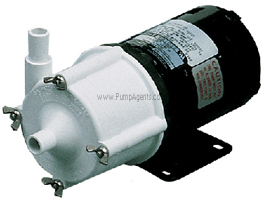 Available MD Series Model 3X-MDX
Model #
Description
Price / ea.
ORDER
CAN SHIP