Big John Submersible Sump Pump - 6-CIA
•

Product Data Sheet (Performance & Dimensions)
•

Operation & Maintenence Manual (O & M)

FEATURES
Motor:
115 Volts, Electric Motor with 8 Foot Cord
APPLICATIONS

Features:
• 1/3 HP shaded pole motor with overload protection
• Designed for continuous duty
• Epoxy coated cast iron housing
• 1-1/4" (31.7 mm) adapter and 3/4" (19 mm) garden hose adapter available
• Carbon/ceramic shaft seal
• Upper and lower sintered sleeve bearings
• Multiple switch options for automatic operation
• Multiple power cord lengths available
• UL / CSA listed

For residential and light commercial use, the 1/3 HP, automatic 6-CIA sump pump provides efficient and reliable service. Pump has a 1-1/2" discharge with an 18" maximum head. Cast iron motor housing is oil-filled for lifetime lubrication and excellent heat dissipation. Polycarbonate cover and polypropylene volute-base.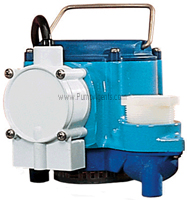 Available Big John Submersible Sump Pump - 6-CIA
Model #
Description
Price / ea.
ORDER
CAN SHIP