Submersible Parts Washer Pump - 1-EAYS
•

Product Data Sheet (Performance & Dimensions)
•

Operation & Maintenence Manual (O & M)

FEATURES
Motor:
115 Volts, Electric Motor with 6 Foot Cord
APPLICATIONS

Features:
• 1/125 HP Epoxy encapsulated motor
• 170 GPH @ 10" Maximum flow rate
• Intermittent Liquid Temp. to 120F
• Cast aluminum/polyester housing
• Nylon volute & impeller
• Viton® Shaft Seal
• Nylon Screen
• 6" power cord

Epoxy encapsulated, centrifugal pump is designed to be used in submerged parts washer applications only. Nylon volute, epoxy filled polyester and aluminum motor housing. 6 foot power cord with 3/8" MNPT conduit connector at pump housing. 1/4" MNPT discharge. For pumping unheated metal parts cleaning solvent which is UL classified as PJQU, as described in the Gas and Oil Equipment Directory. These refined petroleum distillates are free from tendency to heat spontaneously; they have a closed cup flash point no lower than 100 degrees F.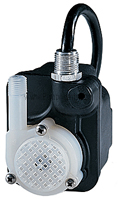 Available Submersible Parts Washer Pump - 1-EAYS
Model #
Description
Price / ea.
ORDER
CAN SHIP