12 VDC Automatic Sump Pump Back-Up System - SPBS-12
•

Product Data Sheet (Performance & Dimensions)
•

Operation & Maintenence Manual (O & M)

FEATURES
Motor / Amp Draw:
120 Volts, Electric Motor with 6 Foot Cord
APPLICATIONS

Features:
• 12 VDC pump performance of 1600 GPH and 21" (6.4 m) shut off
• Check valve, T-connector and vertical mechanical float switch included for easy installation
• 10 amp charger/alarm unit
• Battery box holds 12v deep cycle marine battery rated 105-140 amp-hours (battery not included)

The SPBS-12 provides extra protection in the event the primary sump pump fails, an obstruction in the sump pit blocks flow, or a power outage occurs. It will also function as an alarm system if the primary pump fails to empty the sump pit. The back up system is powered by a 12 VDC battery (not included). The battery should be a deep-cycle marine battery rated 105 to 140 amp-hours. (A 140 amp-hour battery can provide in excess of 9 hours of continuous operation.) A controller/charger monitors the battery condition and charges the battery when required. It will alert the homeowner if there is a problem with the battery not charging.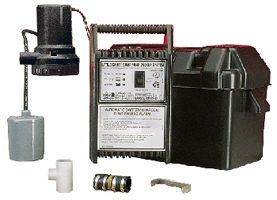 12 VDC Automatic Sump Pump Back-Up System - SPBS-12
Model #
Description
Price / ea.
ORDER
CAN SHIP