AMT # 429H-98 - Stainless Steel Self Priming Centrifugal Pump
FEATURES
Pump Body:
Stainless Steel
Shaft:
Mechanical Seal
Port Size:
Mechanical Seal VITON
Motor / Amp Draw:
1 Horsepower Horsepower, , Three Phase, ODP (Open Drip Proof)
APPLICATIONS

Features:
• Investment Cast 300 Series Stainless Steel Construction
• 1" NPT Port Sizes
• Self-priming to 6 ft.

Applications:
AMT 316 Stainless Steel Transfer pumps are designed to handle liquids and chemicals with specific gravities to 1.6. The pumps are particularly well suited to applications involving perchloroethylene (PCE). Built in handle for portability.
AMT Stainless Steel Transfer pumps are reliable, cost effective and low maintenance.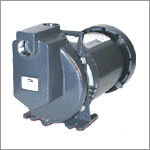 AMT # 429H-98 - Stainless Steel Self Priming Centrifugal Pump
Model #
Description
Price / ea.
ORDER
CAN SHIP