AMT # 4223-95 - Cast Iron Dewatering Pump
FEATURES
Pump Body:
Cast Iron
Shaft:
Mechanical Seal
Port Size:
Mechanical Seal Buna N
Motor / Amp Draw:
6.5 Horsepower, , B&S CP650
APPLICATIONS
The AMT line of Engine Driven Dewatering pumps offers economy, durability, portability and performance all in one neat package. Ideal for general purpose dewatering, irrigation, spraying, washdown and agricultural applications. Cast Iron pumps feature dual volute design that reduces radial load on engine. Pump construction materials range from Cast Aluminum and Cast Iron to corrosion resistant thermoplastic components featuring removable/replaceable volutes, impellers and wearplates. Pumps are available with Briggs & Stratton or Honda engines. Viton®, EPDM and Silicon Carbide mechanical seal options are available on specific models.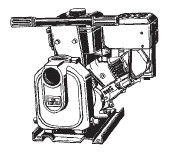 AMT # 4223-95 - Cast Iron Dewatering Pump
Model #
Description
Price / ea.
ORDER
CAN SHIP