AMT # 2858-95 - Cast Iron Dewatering Pump
FEATURES
Pump Body:
Cast Iron
Shaft:
Mechanical Seal
Port Size:
Mechanical Seal Buna N
Motor / Amp Draw:
4 Horsepower, , Briggs & Stratton
APPLICATIONS

• Two 1.5" NPT Pipe Nipples
• Buna-N Mechanical Seal and O-Ring
• O-Ring Casing Seal
• Self-primes to 20 ft.
• Semi-Open, Clog Resistant Impeller
• Stainless Steel Shaft Sleeve
• Max. Temperature 180° F
• Max Working Pressure 60 PSI
• Delivers up to 31 PSI
• Dual Volute Design
• Maximum 85 GPM

The AMT line of Engine Driven Utility pumps offers economy, durability, portability and performance all in one neat package. Ideal for general purpose dewatering, irrigation, spraying, washdown and agricultural applications. Model 2858-95 is cast iron and features a self-priming plastic impeller coupled to a B&S 4-cycle engine. AMT Engine Driven Dewatering pumps are reliable, cost effective and low maintenance. Many are readily available "Off-the-Shelf" for fast 24 hour shipment. For use with non-flammable liquids which are compatible with pump component materials.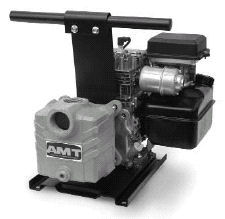 AMT # 2858-95 - Cast Iron Dewatering Pump
Model #
Description
Price / ea.
ORDER
CAN SHIP