Series # 18590 Self Priming Macerator Pump
•

Product Data Sheet (Performance & Dimensions)
•

Operation & Maintenence Manual (O & M)
• Parts List & Parts Prices for this Pump
• Order Parts

FEATURES
Pump Body:
Self-Priming Flexible Impeller with Stainless Steel Wearplate
Impeller:
Jabsco Nitrile compound
Shaft:
Stainless Steel Shaft
Shaft Seal:
Lip Type
Port Size:
Inlet - 1-1/2" (38mm) Hose Barb and 1-1/2" N.P.T. (Male)
Outlet - 1" (19mm) Hose Barb
Motor / Amp Draw:
Permanent Magnet Type, Fully Enclosed, with Stainless Steel Shaft Includes Run-Dry Protection Device that shuts-off pump after 20 seconds of run-dry. Complies with USCG Regulation 183.410 and ISO 8846 MARINE for Ignition Protection.
Pressure Switch Setting:
5 lb (2.3 kg) Approx.
APPLICATIONS
The JABSCO 18590 series dc macerator pump unit is the ideal solution for emptying marine holding tanks when not in a discharge restricted area. The JABSCO macerator is self-priming to a five foot lift when impeller is wet, four foot when dry, and may be mounted in any convenient point in the waste discharge system. The macerator section grinds waste down to a particle size of 1/8" (3mm) maximum so it can easily by pumped through a 1" (19mm) ID discharge hose.The pump section is self priming,permitting the unit to be mounted above the tank in a convenient location. (For optimal efficiency, locatepump as close to holding tank as possible.)The macerator has an approximate flow rate of 12 GPM(45 LPM) and will empty a typical 30 gallon (115 liter)holding tank in less than 3 minutes.The 18590 series waste pump will macerate and pumpall waste and tissue normally found in marine andrecreational vehicle waste systems.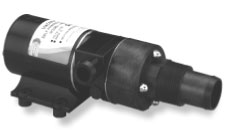 Series # 18590 Self Priming Macerator Pump
Model #
Description
Price / ea.
ORDER
CAN SHIP