AMT # 5391-95 - Immersion Type Coolant Pump
FEATURES
Pump Body:
Cast Iron
Impeller:
Stainless Steel
Shaft:
Sealless Design
Port Size:
Sealless Design
Motor / Amp Draw:
1/4 Horsepower Horsepower, , Three Phase,
APPLICATIONS

Features:
• Cast Iron Construction
• Stainless Steel Impeller
• Carbon Steel Shaft
• Sealless Design for Pumping Abrasives
• Pumps Liquids Down to 2"
• Ideally Suited for Pumping Fine Contaminants

Applications:
AMT Interchangeable Coolant/Oil pumps are dependable, economical replacement pumps equivalent to units supplied with both domestic and foreign made machine tools such as Fuji, Mitsubishi, Toshiba, Hitachi and many others. These pumps are designed for the circulation and spraying of coolants and cutting oils. Pumps are available with Stainless Steel impeller, for added corrosion/erosion resistance and durability.

Motors are Totally Enclosed with sealed bearing, and operate at 3450 RPM. Pumps feature semi-open impellers that are ideal for handling some solids and fine contaminants.

For use with non-flammable liquids compatible with pump component materials.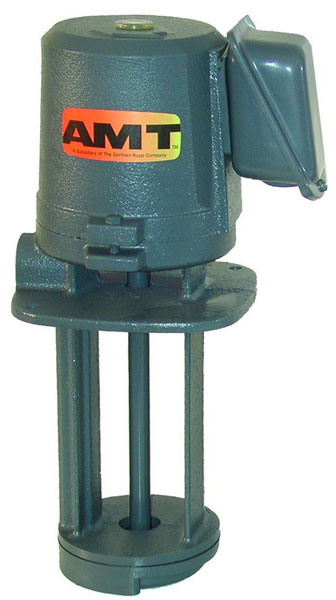 AMT # 5391-95 - Immersion Type Coolant Pump
Model #
Description
Price / ea.
ORDER
CAN SHIP