AMT # 489G-97 - 12 VDC Washdown Pump
FEATURES
Pump Body:
Bronze
Impeller:
Stainless Steel
Shaft:
Mechanical Seal
Port Size:
Mechanical Seal VITON
Motor / Amp Draw:
1 Horsepower Horsepower, ,
APPLICATIONS

Features:
• Discharge Port Rotates in 90° Increments
• Four Front Drain Plugs
• Max. Working Pressure 150 PSI
• Max. Temperature 200° F
• Max. Flow 56 GPM
• Max. Head 80 Ft. (35 PSI)
• High Efficiency Closed Impeller
• 1 HP 12 Volt DC Washdown Duty Motor for Severe Operating Conditions

Applications:
AMT 12 Volt DC Washdown pumps are designed for OEM, Septic Service, Pumper and Marine applications requiring a DC motor. The motor has a one hour duty rating and is furnished with a stainless steel shaft. This washdown duty pump is available in a variety of construction and seal materials to meet your specifications. Pull-from-the-rear design for easy servicing without disturbing any piping. High efficiency impeller maximizes performance.
For use with nonflammable liquids compatible with pump component materials.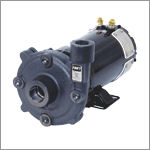 AMT # 489G-97 - 12 VDC Washdown Pump
Model #
Description
Price / ea.
ORDER
CAN SHIP