AC-4C-MD Series
• Parts List & Parts Prices for this Pump
• Order Parts

FEATURES
Pump Body:
Polypropylene
Impeller:
Polypropylene
Shaft:
Spindle is Ceramic
Shaft Seal:
none - Sealless Magentic Drive, "O"-Ring is Buna N
Ports:
1" FPT Inlet x 1/2" MPT Outlet
Motor:
1/12 HP, 3450 rpm, 115-volt or 230-volt single phase, 50/60 Hz., air-cooled
Weight:
11 lb. Approx.
APPLICATIONS
Series 4 pumps can deliver a maximum flow of 14 GPM (50 LPM), and are capable of serving applications with a maximum head of 21.5 ft. (4.7 m). Applications include electronic medical equipment, etching machines, photo processing equipment, hospital thermal blankets and food heating cabinets.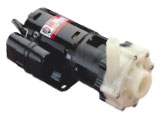 Available AC-4C-MD Series
Model #
Description
Price / ea.
ORDER
CAN SHIP