1A-MD Series
FEATURES
Pump Body:
Polypropylene
Impeller:
Nylon & Ceramic
Shaft:
Spindle is 316 Stainless Steel
Shaft Seal:
none - Sealless Magentic Drive, "O"-Ring is Buna N
Ports:
1A-MD-3/8 = 3/8" OD Inlet x 3/8" OD Outlet, 1A-MD-1/2 = 1/2" OD Inlet x 1/2" OD Outlet
Motor:
1/200 HP (.003 kw), 3200 rpm, 115-volt or 230-volt single phase, 50/60 Hz., totally enclosed/submersible (maroon color = can run in open air or submerged)
Weight:
3 lb. Approx.
APPLICATIONS
Small but versatile, March Series 1 pumps can deliver a minimum of 1.7 GPM (7 LPM) up to 3.0 GPM (9 LPM). All Series 1 pumps are capable of serving applications with a maximum head of 4.5 ft. (1.3 m). at zero GPM (0 LPM). Applications include photographic processing equipment, refrigeration systems and water displays or fountains. Maximum recommended fluid temperatures are 130º F (55º C) for submersible models.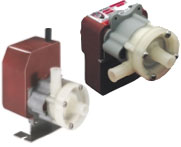 Available 1A-MD Series
Model #
Description
Price / ea.
ORDER
CAN SHIP