AMT # 3960-95 - High Pressure Pump
FEATURES
Pump Body:
Cast Iron
Shaft:
Mechanical Seal
Port Size:
Mechanical Seal Buna N
Motor / Amp Draw:
4 Horsepower, , Briggs & Stratton
APPLICATIONS

Features:
• Cast Iron or Die Cast Aluminum Construction
• Self-Priming up to 20 ft.

Applications:
The AMT line of Engine Driven High Pressure pumps is designed for lawn sprinkling, agricultural spraying, dewatering, fire fighting, emergency water supply and pressure boosting. Single stage models feature replaceable Cast Iron dual volutes and semi-open impellers that can handle 1/8" diameter solids. Two-stage models feature Cast Iron diffusers and Stainless Steel closed impellers for high efficiency producing up to 155 PSI that generally requires 8 horsepower or more from a single stage pump.
AMT Engine Driven High Pressure pumps are reliable, cost effective and low maintenance.
For use with non-flammable liquids which are compatible with pump component materials.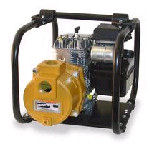 AMT # 3960-95 - High Pressure Pump
Model #
Description
Price / ea.
ORDER
CAN SHIP