AMT # 3881-97 - Bronze Spa Pump
FEATURES
Pump Body:
Bronze
Shaft:
Mechanical Seal
Port Size:
Mechanical Seal Buna N
Motor / Amp Draw:
3/4 Horsepower Horsepower, , Single Phase, ODP (Open Drip Proof)
APPLICATIONS

Features:
• U.L. Listing 1081
• Bronze Construction
• Buna-N Mechanical Seal and O-Ring
• 1-1/2" NPSC Suction, 1-1/2" NPT Discharge Ports

Applications:
AMT Bronze Self-priming Centrifugal pumps are designed for use with swimming pools, hot tubs and spas. All models are U.L. Listed 1081. NOTE: Strainer Baskets must be ordered separately. All models are fitted with self-cleaning bronze impellers. Units feature pull-from-rear design for easy servicing without removing piping.

AMT Bronze Self-priming Centrifugal pumps are reliable, cost effective and low maintenance. For use with non-flammable liquids compatible with pump component materials.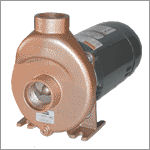 AMT # 3881-97 - Bronze Spa Pump
Model #
Description
Price / ea.
ORDER
CAN SHIP