Model # SP25V1 Submersible Sump Pump (Vertical Float Switch)
• Parts List & Parts Prices for this Pump
• Order Parts

FEATURES
Pump Body:
Cast iron/thermoplastic
Shaft Seal:
Carbon/ceramic mechanical seal
Port Size:
1- 1/2" Discharge
Motor / Amp Draw:
1/4 HP (3450 RPM), 115 Volt, 5.7 FLA, 1 phase, 60Hz
10 Foot Power Cord,
APPLICATIONS

• Designed for drain water removal, or permanent applications with small amounts of debris.
• Wide angle or vertical mechanical switch.
• Dual ball bearing.
• Powerful capacitor run motor.
• Built-in overload protection.
• Cast iron housing for superior heat dissipation.
• Non-clogging recessed impeller.
• Long-life carbon/ceramic seal.
• Positive sealing, quick-disconnect power and switch cords make replacement simple.
• 10' power cord.
• Energy saving, low amp motor.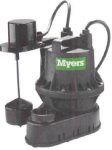 Model # SP25V1 Submersible Sump Pump (Vertical Float Switch)
Model #
Description
Price / ea.
ORDER
CAN SHIP