Model # S33PC-1 Submersible Sump Pump (Piggyback Float Switch)
FEATURES
Pump Body:
Cast Iron and Thermoplastic
Impeller:
Thermoplastic
Shaft Seal:
Carbon/ceramic mechanical seal
Port Size:
1- 1/2" Discharge
Motor / Amp Draw:
1/3 HP, 115 volts, 8 amps, 1 phase, 60 Hz
APPLICATIONS

• Designed for drain water removal or permanent applications with small amounts of debris.
• UL, CSA and SSPMA listed.
• Wide-angle or vertical mechanical switch for small 10-1/2" diameter sumps.
• Oil-filled motor for maximum heat dissipation, continuous bearing lubrication.
• Recessed vortex impeller for free flow of liquids and solids.
• Thermal overload protection with automatic reset.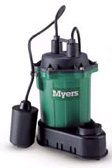 Model # S33PC-1 Submersible Sump Pump (Piggyback Float Switch)
Model #
Description
Price / ea.
ORDER
CAN SHIP