Model # 31605-0092 PAR MAX 3 - 3.5 GPM Washdown Pump
•

Product Data Sheet (Performance & Dimensions)
•

Operation & Maintenence Manual (O & M)
• Parts List & Parts Prices for this Pump
• Order Parts

FEATURES
Pump Body:
Glass Filled Polypropylene
Port Size:
3/4" (19 mm) Hose Barb or 1/2" (13 mm)
Motor / Amp Draw:
12 VDC Permanent Magnet with Thermal Overload Protection, pump has standard Pressure switch (50 PSI off)
APPLICATIONS

• Self-Priming to 10 ft. (3 m)
• Run Dry Without Damage
• Smooth Flow
• Four Piston, Diaphragm Pump
• Powerful Motor with Thermal Overload Protection
• Snap-in Ports
• Waterproof Coating (31605-Series)
• Pressure Switches with Rubber Boot (31605-Series)
• Meets USCG Regulation 183.410 and EN ISO 8846 MARINE (Ignition Protection Standards)
• Meets EN 50081-1 Electro Magnetic Compatibility


GENERAL APPLICATIONS :
For commercial duty washdown/ baitwell applications. Corrosion resistant coated motor for harsh environment use. Baitwell is a full flow application.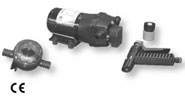 Model # 31605-0092 PAR MAX 3 - 3.5 GPM Washdown Pump
Model #
Description
Price / ea.
ORDER
CAN SHIP
Parts and Accessories for Jabsco model 31605-0092
Model #
Description
Price / ea.
ORDER
CAN SHIP
Pump less Motor / Replacement Pumphead :
Major Overhaul Kit / Rebuild Kit :
Parts and Related Accessories :