Burks model # 350CS9M - Turbine Pump
FEATURES
APPLICATIONS
MATERIALS OF CONSTRUCTION

Frame : Cast Iron
Case : Cast Iron
Raceway : Bronze
Impeller : Bronze (Monel Blades)
Shaft : #303 Stainless Steel
Shaft Seal : Carbon-Ceramic / S. Steel / Buna-N

MAXIMUM OPERATING CONDITIONS
TEMPERATURE (For Standard Buna-N Seal) : 225°F (107°C)
INLET PRESSURE : 100 PSI (689kPa)
CASING WORKING PRESSURE : 250 PSI (1724kPa)
VISCOSITY : 200 SSU

FEATURES

• Self-Priming
• Compact, Space-saving size
• No coupling - eliminates misalignment problels
• Dependable carbon/ceramic mechanical shaft seal for temperatures to 225°F (107°C).
• Bronze impeller with Monel blades - the only moving part
• Bronze raceway with cast-in vortex pockets - will not vapor lock
• #303 Stainless Steel pump shaft
• Easy to service
• Every pump factory tested
• Available Bronze fitted, All Bronze, Stainless Steel

BURKS is the only turbine pump with Life-Lok External Impeller Adjustment feature that allows readjustment of impeller without disturbing piping, disassembling pump or replacing parts. Gives up to 40% longer service life than turbine pumps of other designs.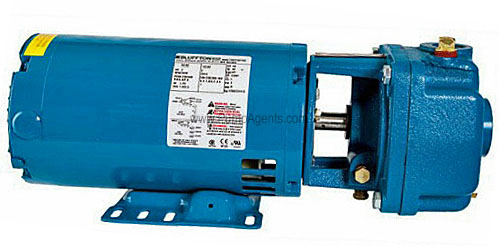 Burks model # 350CS9M - Turbine Pump
Model #
Description
Price / ea.
ORDER
CAN SHIP
Parts and Accessories for Burks model 350CS9M
Model #
Description
Price / ea.
ORDER
CAN SHIP
Major Overhaul Kit / Rebuild Kit :
Shaft Seal :
Casing frozen or cracked ? New Pump Casing :
This is the part with the Inlet and Outlet ports
Parts and Related Accessories :