P133 Series - Column Sump Pump
FEATURES
APPLICATIONS
Switch - Vertical style operation provides easy adjustment for on/off setting to specific application needs.

Intake - Screened intake prevents debris from entering the pump.

Heavy-duty Motor - Built in thermal overload protection with automatic reset.

Performance - Models range up to 50 gallons per minute at 5" of lift.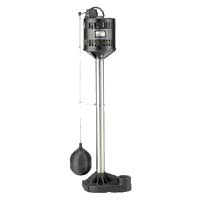 P133 Series - Column Sump Pump
Model #
Description
Price / ea.
ORDER
CAN SHIP