SSHM-2 Horizontal Multi-Stage Pump
FEATURES
Pump Body:
304 Stainless Steel with Cast iron Suction and Discharge Ports
Impeller:
Noryl Plastic
Shaft:
303 stainless steel
Shaft Seal:
High-pressure seal, carbon-ceramic seal faces, Buna-N elastomers.
Port Size:
1-1/2" Inlet, X 1-1/4" Discharge Threaded
Motor / Amp Draw:
Horsepower : 2 HP
Voltage : available in 230 Volt Single Phase
Enclosure : ODP (Drip Proof) or TEFC (Totally Enclosed Fan Cooled)
Check or Confirm your electric Motor specs (on motor tag) before ordering your pump and motor assembly from us.
APPLICATIONS
The Berkeley SSHM-2 Self-Priming Pump consistently delivers high pressure performance without priming problems and delays. Designed for minimal electrical consumption and quiet operation, the SSHM-2 meets the high-flow and high-pressure challenges many demanding applications.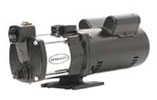 SSHM-2 Horizontal Multi-Stage Pump
Model #
Description
Price / ea.
ORDER
CAN SHIP