AMT # 5572-95 - Sprayer Washer Pump
FEATURES
Pump Body:
Cast Iron
Impeller:
Stainless Steel
Port Size:
Motor / Amp Draw:
5 Horsepower Horsepower, , Three Phase,
APPLICATIONS

Features:
• Cast Iron Construction with 300 Series Investment Cast Stainless Steel Impeller
• Stainless Steel Pump Shaft
• No Bottom Bearing!!
• Handles Viscosities up to 100 SSU
• Maximum Temperature 200° F
• Stainless Steel Suction Screen
• Includes Heavy Duty Universal Mounting Plates

Applications:
AMT Vertical Sealless Sprayer/Washer pumps are designed for OEM, automotive and industrial washing machines, parts cleaners, spray booths and cooling towers. "No bottom bearing" design and Stainless Steel impeller resists errosion from abrasives and ensures a long, maintenance free life for the pump. CNC machined stainless steel pump shafts. Built in stainless steel suction screen protects pump from clogging and damage caused by large solids. Heavy duty universal mounting plates permit easy installation into existing tanks, booths, equipment, etc.

For use with non-flammable liquids compatible with pump component materials.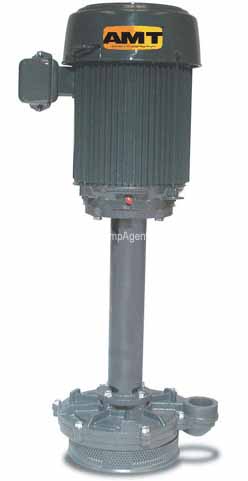 AMT # 5572-95 - Sprayer Washer Pump
Model #
Description
Price / ea.
ORDER
CAN SHIP