AMT # 5540-95 - High Flow Cast Iron Drum Pump
FEATURES
Pump Body:
Cast Iron
Shaft:
Buna N
Port Size:
Buna N
Motor / Amp Draw:
Horsepower, ,
APPLICATIONS

Features:
• Cast Iron Construction with Carbon Vanes and Steel Components
• Buna-N Seal and Fiber Gasket
• Maximum Temperature 160° F
• 8 GPM at 70 RPM (14 Oz/Stroke)
• 1" NPT Steel Discharge Spout
• 1" NPT x 40" Steel Suction Tube Assembly
• 2" Cast Iron Bung Adapter
• Ship Wt. 18 Lbs.

Applications:
High Flow Cast Iron Drum pump is designed for the transfer and dispensing of gasoline, lubricating oil and other non-corrosive liquids which are compatible with pump component materials.

AMT Drum pumps are capable of handling compatible liquids with a maximum 5000 SSU viscosity at a minimum 60° F liquid temperature (Equivalent to SAE 40 motor oil). Warranty is void when used beyond compatibility and temperature shown for each product.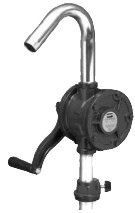 AMT # 5540-95 - High Flow Cast Iron Drum Pump
Model #
Description
Price / ea.
ORDER
CAN SHIP