AMT # 4946-99 - Polypropylene Drum Pump
FEATURES
Pump Body:
Polypropylene
Shaft:
Teflon
Port Size:
Teflon
Motor / Amp Draw:
Horsepower, ,
APPLICATIONS

Features:
• Polypropylene Construction with Ryton Rotor and Vanes
• Teflon Seals
• Maximum Temperature 130° F
• 6 GPM @ 70 RPM (11 Oz/Stroke)
• 1" O. D. Ryton Discharge Spout Assembly
• 1" ID x 45" Polypropylene Suction Tube Assembly
• 2" Bung Adapter
• Ship Wt. 5 Lbs.

Applications:
Polypropylene Drum pump is designed for the transfer and dispensing of many organic acids, alcohols and other water soluble inorganic chemicals which are compatible with pump component materials.

AMT Drum pumps are capable of handling compatible liquids with a maximum 5000 SSU viscosity at a minimum 60° F liquid temperature (Equivalent to SAE 40 motor oil). Warranty is void when used beyond compatibility and temperature shown for each product.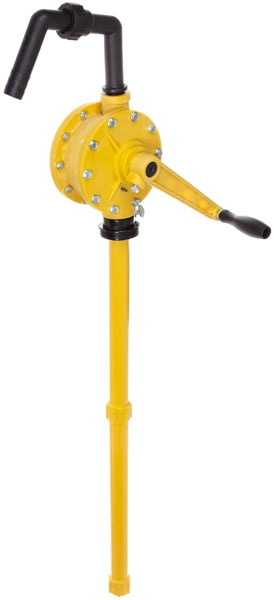 AMT # 4946-99 - Polypropylene Drum Pump
Model #
Description
Price / ea.
ORDER
CAN SHIP