AMT # 4850-97 - Self-Priming Utility Pump
FEATURES
Pump Body:
Bronze
Impeller:
Bronze
Shaft:
Mechanical Seal
Port Size:
Mechanical Seal Buna/SS
Motor / Amp Draw:
Horsepower, ,
APPLICATIONS

Features:
• Cast Bronze Construction
• Buna-N Mechanical Seal and O-Ring
• 3/4" NPT Suction and Discharge Ports
• Maximum Working Pressure 50 PSI
• Maximum Temperature 180° F
• 1/12 HP, 12V DC (4850-97)
• Maximum Suction Lift is 4 ft.

Applications:
AMT Self-priming Bronze Centrifugal pumps are compact and designed for a wide range of dewatering/recirculating applications including marine, salt water aquaculture and live well tanks. Model 4850-97 is fitted with a 1/8 HP, 12V DC, 3700 RPM motor.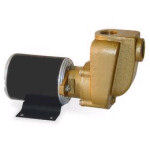 AMT # 4850-97 - Self-Priming Utility Pump
Model #
Description
Price / ea.
ORDER
CAN SHIP